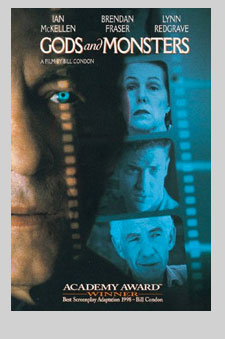 Gods And Monsters
with Ian McKellen, Brendan Fraser, and Lynn Redgrave
I have no idea why I like this movie so much, but I've watched it many times. There's a lot to learn from it, and the lessons are not obvious.
Part of my enjoyment of this movie is the quality of the production. The light, the settings, the costumes — all are just right!
Gods and Monsters tells the more or less true story of the last days of James Whale's life. James Whale is best remembered for directing Frankenstein and Bride of Frankenstein, although he would probably have preferred to be remembered for Show Boat.
The scene where James Whale introduces his gardener to Princess Margaret is to die for!